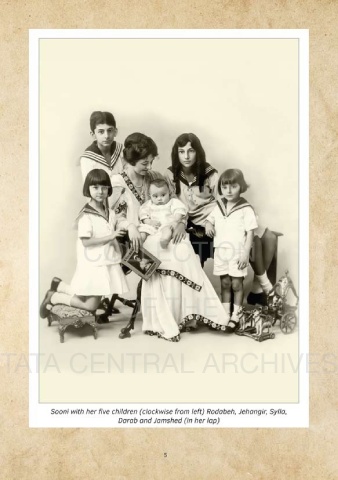 country's largest industrial empire. He  September 1992. He also firmly believed
        was appointed Chairman on July 26,  that the rapid spread of literacy and
        1938 and he remained the Chairman till  education, particularly among women
        March 25, 1991, when he relinquished it   and children, would help in raising the
        to Mr. Ratan N. Tata.               standard of living of the people of India.

                                            J.R.D.'s joy of achievement extended
                                            beyond the ambit of business to
                                            institutions he helped create. Significant
                                            among them was the Tata Institute of
                                            Fundamental Research and his support
                                            for the creation of the National Centre for
                                            the Performing Arts. In addition to these
                           FROM THE
                                            two was the part he played in the setting
                                            up of the National Institute of Advanced
                                            Studies in Bangalore (now Bengaluru).
        J.R.D. Tata with Ratan N. Tata, circa 1991.  J.R.D. also had a decisive role in the
                                            planning stage of India's first cancer
        When J.R.D. took over the Chairmanship    hospital – the Tata Memorial Hospital for
        of Tata Sons Limited, the Group had 14   Cancer Research and Treatment (now
                        COLLECTION
        companies. Under his stewardship the  Tata Memorial Hospital).
        Group expanded to cover a range of
        industrial activities, such as commercial
        vehicles, engineering, hotels, air-
        conditioning & refrigeration, consultancy
        services, information technology,
        consumer goods, consumer durables
        Mr. Tata had over the years crusaded for THE
                                OF
        and industrial products.
        causes, which he believed to be in the
        national interest, such as family planning
        and population control. His contribution  The Tata Institute of Fundamental Research,
        in the sphere of population control  1945.
    TATA CENTRAL ARCHIVES
        received due recognition when he was
                                            At the age of 40, J.R.D.   set up a multi-
        given the UN Population Award in
                                            purpose trust, the J.R.D. Tata Trust, by
                                            donating many of his prized shares of
                                            Tata Sons Limited and other companies.
                                            Among his other concerns, was the
                                            condition of disadvantaged women in
                                            India and established a Trust of his own
                                            called the J.R.D. and Thelma J. Tata Trust
                                            to improve their lot.
                                            The friendship of Jawaharlal Nehru and
                                            J.R.D. went back to a time when
        The Tata Engineering and Locomotive Co. Ltd.  Jawaharlal Nehru was a dashing 36 and
        (now Tata Motors).